The perfect Date Night at 305
Posted on Wed April 26, 2023.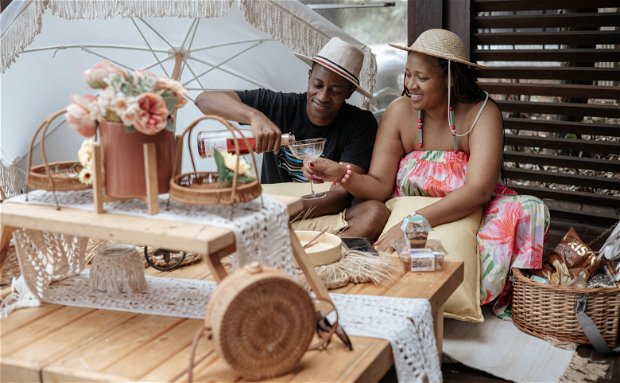 Welcome to 305, an exclusive guest house located in the heart of Amanzimtoti, offering luxurious accommodation and a range of package deals for guests to choose from to ensure that your date night is one to be remembered for years to come. Whether you're looking for a romantic getaway or a relaxing weekend retreat, 305 Guest House has a package to suit your needs.
First, Let's take a look at some of the couples packages we offer:
COUPLES PACKAGE: Movie night: A one-of-a-kind movie night. Enjoy an intimate evening under the stars with your partner.
PICNIC ON THE LAWN: Watch the sunset as you sip on bubbly and spend quality time with your partner.Our Picnic on the lawn is pleasantly situated on the front lawn with guaranteed extraordinary ocean views.  
WOW PACKAGES: Experience the Thrill of Microflights with WOW Flight School. Fly in a Microlight! From stunning aerial views of the ocean to the natural beauty of the surrounding areas, guests will have a once-in-a-lifetime experience that they'll never forget. 
ROMANTIC COUPLES PACKAGE: Spoil yourself and your loved one with this exclusive offer. Elevate Your Date Night to the Extraordinary - An Unforgettable Evening Awaits .
DELUXE ROMANCE PACKAGE: Let love come alive in the small details. Everything you need for a romantic evening. Unlock the passionate side of yourself with this exquisite package. 
MARRY ME PACKAGES: Make your next date night one to remember forever - pop the question and turn it into an engagement night! She always says "Yes" at 305. A Luxurious evening awaits as you enter this magical setting as a couple and exit as fiancés. We have three different Engagement packages to choose from. 
Now that you know about the package deals we offer, let's talk about how to plan the perfect date night here.
Here are some tips to help you create a romantic evening that you and your partner will never forget:
Choose the right package: As mentioned above, we offer a range of packages to suit different needs. Choose the package that best fits your idea of a romantic date night.
Book early: Once you've chosen your package, be sure to book early to avoid disappointment. 305 is a popular destination, especially for couples looking for a romantic getaway. 
Plan your activities: Amanzimtoti and surrounding areas has a lot to offer, so plan your activities in advance. Whether you want to explore the city, go on a brewery tour, or simply relax in the comfort of your room, make sure you have a plan in place.
Set the mood: Take advantage of the romantic turndown service that we offer. For an additional fee, we'll place rose petals, a bottle of Champagne, a Box of chocolates and a bouquet of flowers in your room.  Bring candles or other romantic decor to make the room feel extra special.
In conclusion, planning the perfect date night at 305 Guest House is easy when you take advantage of our package deals and follow these tips. With luxurious accommodation, stunning views, and a range of amenities to enjoy, 305 Guest House is the perfect destination for a romantic getaway.