Our NGO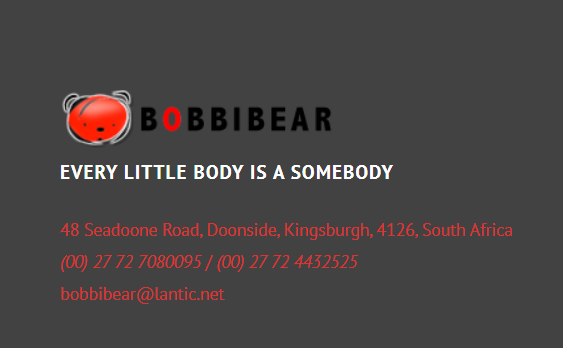 We need your help to fight child abuse and expand our reach into more communities on a larger scale. Please see their Wish List on the right-hand side of this page.
There are so many ways to donate and spread awareness. Help us make a difference in the lives of abused children today.
Operation Bobbi Bear is a human rights organisation committed and dedicated to working with and assisting sexually abused children in Amanzimtoti, Kwa Zulu Natal, South Africa. Bobbi Bear makes a true difference to the lives of thousands of children, families and communities.
More about Bobbi Bear:
A "Bobbi Bear" is a non-threatening means (toy) for child victims of sexual abuse to communicate the nature of the abuse, crossing all language barriers and preventing secondary abuse at the point of rescue. It provides a better understanding of actual events and enables the initiation of appropriate HIV and AIDS interventions.
BOBBI BEAR RESCUE CENTRE
The hub of Operation Bobbi Bear is The Bobbi Bear Rescue Centre in Amanzimtoti, Kwa Zulu Natal, South Africa where all Bobbi Bear activities and projects are based. The centre also functions as a drop-in centre, a counselling facility and a community help desk for child sexual abuse. The centre provides a safe haven and temporary home to children who are seeking refuge from abuse and their abusers.
Volunteers and Child Safety Officers are trained here and are based at this centre. Outgrowing its original home, The Bobbi Bear Rescue Centre was built from funds generated through campaigns and donations. The doors opened in 2010.
DONATIONS
VIEW THE PICTURES BELOW FOR INFORMATION ON HOW TO DONATE OR CONTACT BOBBI BEAR. 
Banking Details, Zappier QR Code and WishList. 
GET IN TOUCH
Bobbi Bear
48 Seadoone Road
Doonside
KwaZulu Natal
South Africa
bobbibear@lantic.net
072 708 0095
072 443 2525