Meet the Figaros
Posted on Tue August 29, 2023.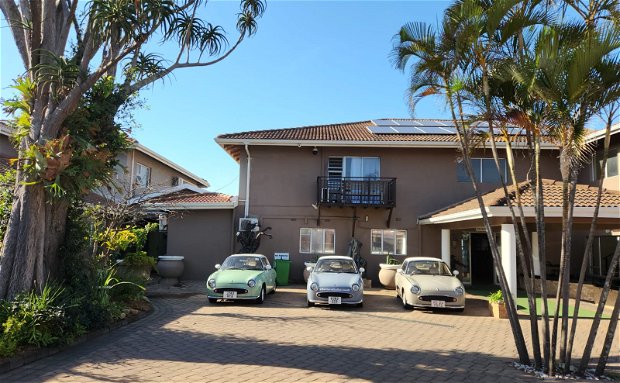 Meet the Figaros: Your Passport to Vintage Charm and Chic Adventures
When it comes to iconic cars, few capture the imagination quite like the Nissan Figaro. Known for its vintage charm and unmistakable retro style, the Figaro has a timeless appeal that transcends generations. Here at 305 Guest House, we're thrilled to introduce not one, but two new additions to our Figaro family. And yes, you heard right - soon, you'll have the chance to experience the Figaro life for yourself!
Our Beloved Figaro
If you've ever visited 305 Guest House, you've likely spotted our beloved Figaro. For years, it has graced our entrance, becoming a point of interest for guests and passersby alike. Its unmistakable character has made it a must-see and must-photograph attraction.
Expanding the Figaro Family
But wait, there's more! We're excited to announce the arrival of two new Figaros to our fleet - one in classic blue and the other in vibrant green. These additions bring a fresh twist to the Figaro experience, and we can't wait to share them with you.
Rent Your Own Figaro Adventure
The best part? Soon, you'll have the opportunity to rent one of our Figaros and experience the magic for yourself. Whether you're looking to add a touch of vintage charm to a special occasion, create unforgettable memories with loved ones, or simply enjoy a scenic drive along the coast, our Figaros will be at your service.
Why Choose a Figaro?
Timeless Elegance: The Figaro is more than just a car; it's a statement piece that turns heads wherever it goes.
Open-Air Freedom: With a soft-top roof that easily retracts, you can enjoy the wind in your hair and the sun on your face.
Perfect for Photos: Capture Instagram-worthy moments and create memories that will last a lifetime.
Reliability: Despite its vintage appearance, our Figaros are meticulously maintained to ensure a smooth and safe ride.

Stay Tuned for Figaro Adventures
We're in the final stages of preparing our Figaros for their debut. Keep an eye on our website and social media channels for updates on when you can book your own Figaro adventure. Whether it's a romantic drive along the coast, a scenic road trip, or a unique addition to your special event, our Figaros are ready to make it unforgettable.
At 305 Guest House, we're all about creating memorable experiences, and our Figaros are just one more way we're bringing charm and excitement to your stay. Get ready to hit the road in style - the Figaro style!